The IEEE International Conference on Robotics and Automation (ICRA) that happened in Singapore over the last week is often referred to as the robotics conference. If you're an academic working in the field of robotics, Singapore was the place to be in the last week. So I spent most of my time hanging around the Marina Bay Sands Hotel Convention center as a student volunteer for the conference, helping out and - in my free time - attending some of the hundreds of presentations that that took place.
One thing that completely blew me away was the scale of the event. It made me realize how vast human knowledge is and how my life's entire work would just be a miniscule part of the sum total. Robotics itself is just a small portion of all there is to know. And even in a conference dedicated to this field, I had to sift through dozens to subfields to attend the talks that were relevant to my narrow area of research.
Day 1
---
The first day of the conference did not have any paper presentations. I guess they wanted to give the delegates from other countries time to get used to the place before they had to present their work. There were however, workshops on several different subjects that were going on. It was also one of the busiest days as a volunteer for me since I was helping out with the registrations of those coming in for the conference. I spent the day helping people get their conference ID tags (which were used for access control) and package. Instead of the usual thick booklet of the conference schedule, ICRA 2017 gave out to all the delegates an android tablet pre-loaded with an app that had the full conference schedule.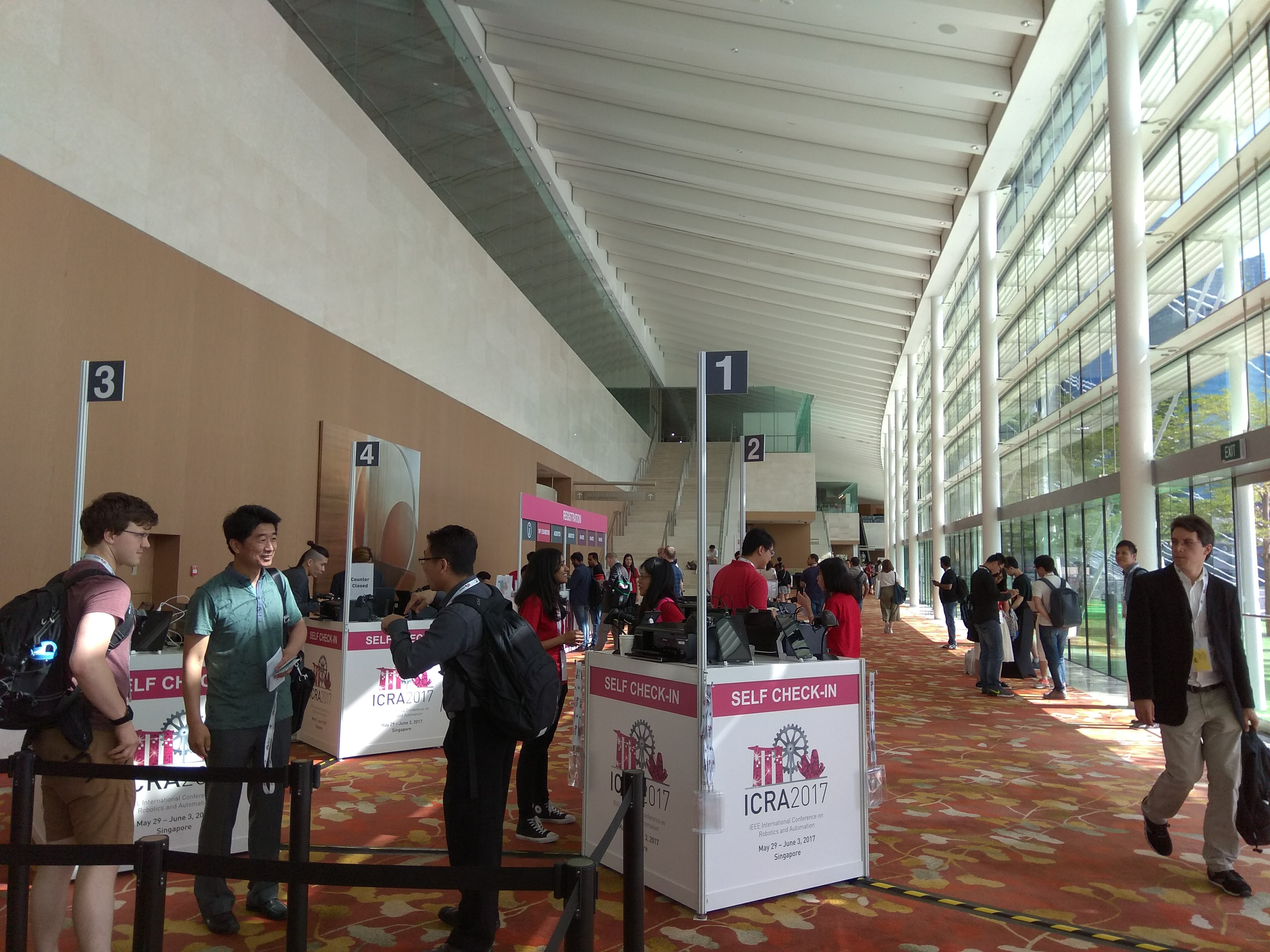 Registration work ended at 4.30 and I had some time to catch the end of a very interesting workshop on rehabiliation robotics.
Days 2 - 4
---
Days 2 - 4 were when the bulk of the conference happened. The papers were classified into sub topics and the presentations for each sub topic happened in different rooms. I feel like the organizers did a good job of separating the papers out in a way that prevented situations where you had two relevant sessions that you had to be in at the same time. After listening to many people presenting their work, I feel a little less nervous about the time I'll have to present my own work in a conference. For the most part, people were friendly, interested and loved to discuss with you about your work after the presentation. In fact, I'll say that I'm almost looking forward to my next conference so that I can discuss with interested people about my work.
Conferences are also very intellectually stimulating! As I listened to the presentations I also found myself getting new ideas for how I could solve problems that I'm facing in my own work. And surprisingly, I had some of my more interesting ideas in sessions that were not directly related to my work. In my next conference I think I will also spend some time attending sessions that are not directly related to my area of research.
While the technical sessions were fantastic, I enjoyed even more the brilliant talks that were arranged for the Keynote and Plenary sessions. These are talks arranged in the afternoons and in the mornings. I think that the organizers selected the works of some particularly brilliant people for these sessions. There were three talks that really stood out.
My favorite talk was one by Professor Lourdes Agapito from University College London. She gave a talk on her work on extracting 3D information from static 2D photos and videos. This is something that's very difficult to do. The best camera sensor that does this is the Kinect and it has to use multiple cameras and an infra red pattern projected onto the scene to get depth information. This limits the range of the camera to a few feet. To get really good long range 3D reconstruction, you need to use a LIDAR - the sensors that self-driving cars use to sense the environment around them. That's why I was so impressed by the quality of the 3D reconstruction that she was able to extract from images taken by just a single camera.
I also really enjoyed the talk by Chris Gerdes from Stanford. Strapping a bunch of electronics on a DeLorean (among other cars) and making automatic control systems that can keep up with human racecar drivers (and even perform drifting maneuvers) is just pure awesomeness.
The last Keynote on June 1 by Professor Katja Mombaur was in a category of its own. She talked about her work on developing very accurate dynamic models of human walking. As someone who spent a lot of time trying to understand the very hairy mathematics behind the dynamics of human walking, I could really appreciate the amount of effort that went into her research. It's probably work that I will be referring to and using quite frequently during my PhD.
There were also some robot competitions and an exhibition happening at the conference. I was expecting a lot from these but I didn't find them as exciting as I thought I would. Maybe working in lab with lots of cool robots every day has rasied my standards of the kind of robotics demos that I find exciting. The robotics competitions were pretty interesting to watch though. Especially the block stacking challenge from DJI.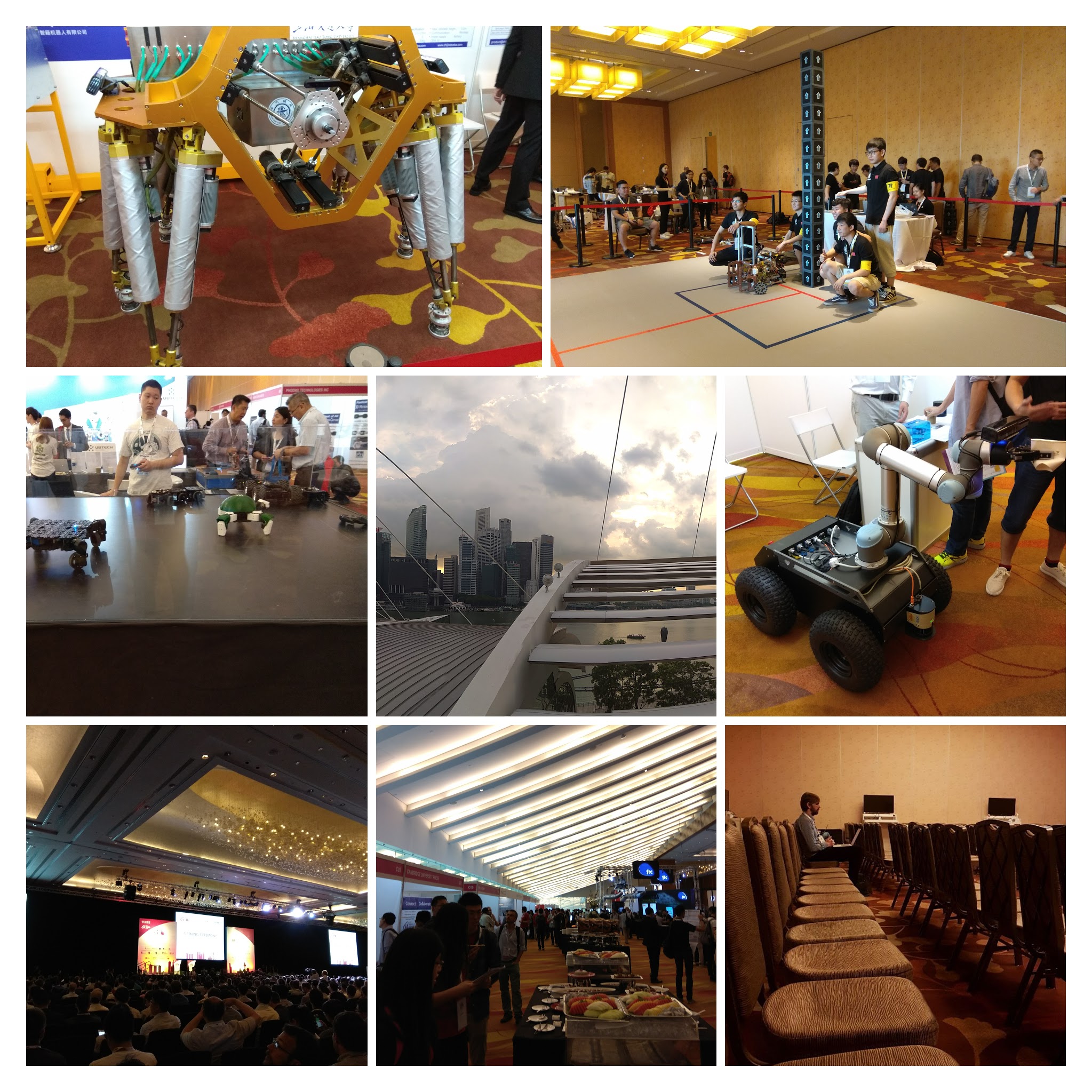 Day 5
---
The last day of the conference was a little quiet. A lot of the people had already left or were busy exploring Singapore. The few who stuck around were those interested in attending the workshops on the last day of the conference. I attended one focusing on Assistive robotics.
Worth it?
---
Doing volunteer work in a conference is no easy task. I was on my feet through most of the 5 days and my feet were killing me at the end of the day. I don't think I've ever walked more in my life than during the first four days of the conference. Your voice can also take quite a hit, especially if you're working at the registration desk.
On the whole though, I think it was definitely worth it. I'd have gladly done all that work for the amazing talks and technical presentations alone, but that was not all that made the conference worth attending. It felt amazing to be surrounded by so much technology and by people who love robotics as much as I do. Being a bit of an introvert, I've always found it difficult to do small talk with people. The conversation just doesn't feel natural or interesting to me. In the conference however, I felt like I could walk up to almost anyone and start a conversation about something without feeling like I'm boring my conversation partner. A welcome change for someone used to people zoning out when I talk about things that interest me.
Apart from the technical presentations, I also got to experience a really nice 9 course dinner, and free entry into the Night Safari and the flower dome in the Gardens By the Bay. So if you ever get an opportunity to become a student volunteer in a big conference like this in your field, go for it!